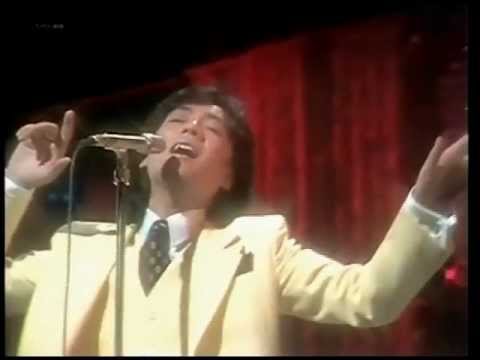 https://www.youtube.com/watch?v=aFAdojrMoao
https://www.youtube.com/watch?v=VZbADPnLklI
沢田研二 - 勝手にしやがれ
Sawada Kenji - Katte ni shiyagare
壁ぎわに寝がえりうって
背中できいている
やっぱりお前は出て行くんだな
悪いことばかりじゃないと
思い出かき集め
鞄につめこむ気配がしてる
行ったきりならしあわせになるがいい
戻る気になりゃいつでもおいでよ

せめて少しはカッコつけさせてくれ
寝たふりしてる間に出て行ってくれ
アア アアア アアア アア
アア アアア アアア アア

バーボンのボトルを抱いて
夜ふけの窓に立つ
お前がふらふら行くのが見える
さよならというのもなぜか
しらけた感じだし
あばよとサラリと送ってみるか
別にふざけて困らせたわけじゃない
愛というのに照れてただけだよ

※夜というのに派手なレコードかけて
朝までふざけようワンマンショーで
アア アアア アアア アア
アア アアア アアア アア※

(※くり返し)
---
kagiri 限り かぎり

Conjunction meaning: as long as..., as far as... is concerned, as... as possible, unless, not later than, just

1. After dictionary form of verb/adjective

私の知る限り彼はうそをついたことがない。
Watashi no shiru kagiri kare wa uso o tsuita koto ga nai.
As far as I know he has never told a lie.

ここにいる限り静かにしなければならない。
Koko ni iru kagiri shizuka ni shinakereba naranai.
We must keep quiet as long as we stay here.

2. After nai-form of verb

雨が降らない限り予定道理行われます。
Ame ga furanai kagiri yotei douri okonawaremasu.
It will be held as scheduled unless it rains.

3. After noun expressing time limit

申し込みは明日限りです。
Moushikomi wa asu kagiri desu.
Applications must be made no later than tomorrow.

4. After specific noun + ni

今回に限り罰は与えません。
Konkai ni kagiri batsu wa ataemasen.
This time only I won't punish you.

5. After できる dekiru, followed by adverb

できる限り早く出かけたいと思います。
Dekiru kagiri hayaku dekaketai to omoimasu.
I'd like to leave as soon as possible.

-> See also: dake
kamoshirenai かもしれない

Adjective meaning: may, might, possibly

1. After dictionary form of verb/adjective

明日は雪が降るかもしれない。
Asu wa yuki ga furu kamoshirenai.
It may snow tomorrow.

彼の言うことが正しいのかもしれません。
Kare no iu koto ga tadashii no kamoshiremasen.
Possibly what he says is right.

2. After ta-form of verb/adjective

その方がよかったのかもしれない。
Sono hou ga yokatta no kamoshirenai.
It might have been better.

もう帰ったのかもしれません。
Mou kaetta no kamoshiremasen.
She may have already gone.

3. After nai-form of verb

彼は一緒に行かないのかもしれません。
Kare wa isshoni ikanai no kamoshiremasen.
He may not go together (with us).

4. After (adjectival) noun

日本語はあなたには簡単かもしれません。
Nihongo wa anata ni wa kantan kamoshiremasen.
Japanese language might be easy for you.

-> See also でしょう deshou
kana かな

Informal particle meaning: I wonder if...

It can be replaced with kashira かしら (used mostly by women).

1. At the end of sentence

電車に間に合うかな。
Densha ni ma ni au kana.
I wonder if I will be in time for the train.

彼女も来るかな。
Kanojo mo kuru kana.
I wonder if she will come, too.

これでいいかな。
Kore de ii kana.
I wonder if this is all right.

2. After (adjectival) noun (+ na no なの)

これは誰のかばん( なの)かな。
Kore wa dare no kaban (na no) kana.
I wonder whose bag this is.
(na no なの after the adjectival noun is often dropped)

3. After conjunctive form of verb + temo ii てもいい
窓を開けてもいいかな。
Mado o aketemo ii kana.
I wonder if it's okay to open the window.
kanarazushimo かならず 必ずしも

Adverb (used with a negative) meaning: (not) always, (not) necessarily, (not) all
It can be shortened to kanarazu 必ず, or replaced by itsumo いつも.

1. Used with negative

お金は必ずしも必要ではない。
O-kane wa kanarazushimo hitsuyou dewa nai.
Money is not always necessary.

2. Used with dictionary form of verb/adjective + to wa kagiranai

それが必ずしもうまく行くとは限らない。
Sore ga kanarazushimo umaku iku to wa kagiranai.
It will not necessarily go well.

先生が必ずしも正しいとは限りません。
Sensei ga kanarazushimo tadashii to wa kagirimasen.
The teacher is not always right.